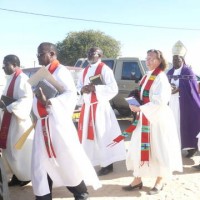 ELCIN Ordains Five Pastors
By Rev. Tomas Uushona (ELCIN) | July 9, 2012
The Evangelical Lutheran Church in Namibia (ELCIN) on 24/06/2012 ordained a newly pastors. In the 55th ordination held at Onesi parish, four young women and one man ordained. The ordination process started from the Parish office to the church. Before the ordination bishop Josaphat Shanghala of the Western Diocese delivered the sermon. Then, the General Secretary of ELCIN Reverend Alpo Enkono presented the candidates to the presiding Bishop Shekutaamba V V Nambala of ELCIN and his nine assistants to ordain them.
The presentation and posting of the newly pastors to dioceses were done by the dioceses Executive Secretaries Halolye Nashihanga of Eastern and Paulus Heita of Western Diocese. Two of them posted to Eastern and three posted to the Western Dioceses and both of them officially starting church duties on 01/07/2012.
After the ordination the newly three female pastors were Liturgist, while man delivered a sermon and other one said a words of appreciation on their behalf.
The invited guests of honor presented were Dr Paulus Ndamanohata Principal –Paulinum Theological Seminary, Maija Kuoppala - FELM , Bishop- elect of IELA Tomas Ndawanapo, Lukas Katenda of Anglican, Uukolokadhi Traditional Authority, Hon. Sofia Shaningwa governor for Omusati Region, and the keynote speaker Mateus Kalla. The event concluded with the benediction by bishop Nambala.
Photo: Above-Procession of Bishops to Venue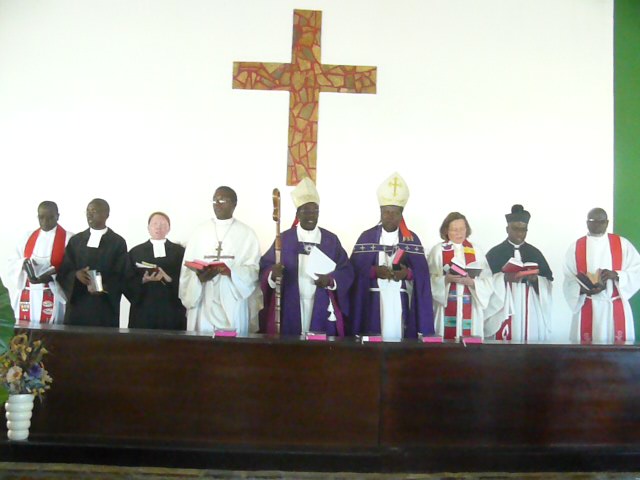 Bishop Nambala and his assistants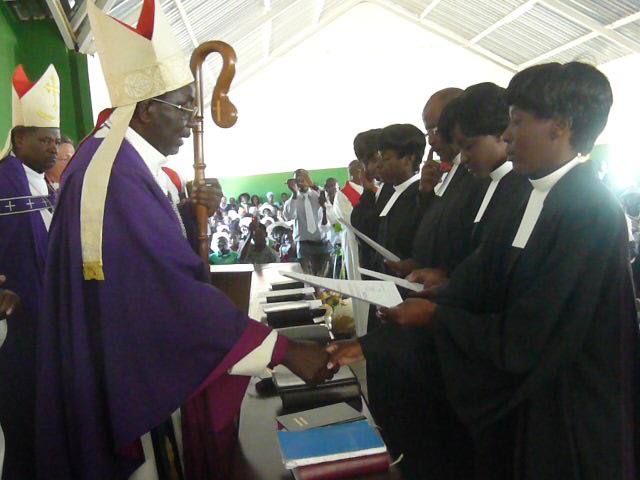 Bishop nambala greeting handing the pastoral certificate to candidates
Back