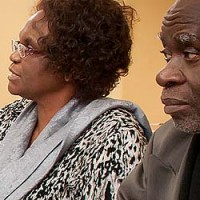 Empowering Lutheran Churches to Respond to the HIV Pandemic
By (LWI) Geneva | July 27, 2012
*The International Aids Conference 2012 (IAC) and Interfaith Pre-Conference in Washington, DC took place 20-27 July, the following story previewed the event and LWF's role in attending...
GENEVA, 17 July 2012 (LWI) – In its efforts to empower member churchs to respond effectively to the HIV pandemic, The Lutheran World Federation (LWF) is sending three church representatives to the International Aids Conference 2012 (IAC) and Interfaith Pre-Conference in Washington, DC, 20-27 July.
Expected to draw 20,000 participants, the IAC is the preeminent gathering of HIV policy makers, persons living with the virus and activists committed to ending the pandemic. The Interfaith Pre-Conference, "Taking Action for Health, Dignity and Justice," will explore ways faith communities can use advocacy and on the ground responses to address the root causes of vulnerability to HIV and promote more inclusive societies.
LWF delegates will be equipped as key actors within the communion, seeking to reduce the spread of the virus and mitigate its economic, social and health consequences.
"Due to the increasing number of children and youth born with the HIV virus in our churches and communities, we face a serious challenge of redefining church ministry to the affected," said Rev. Dr Veikko Munyika, who has coordinated HIV and AIDS work at the LWF over the past four years.
The Lutheran communion remains committed to addressing gender inequality and injustice that makes women more vulnerable to HIV, Munyika noted, and seeks to involve both clergy and laypersons in member church efforts to end the stigma of HIV, underscoring the fact that the virus affects church and society.
Delegates include Victoria Mumbula, a lay youth member of the Evangelical Lutheran Church in Zambia; Munyika, an ordained minister of the Evangelical Lutheran Church in Namibia (ELCIN); and Rev. Aina Sheetheni, an ordained minister of the ELCIN.
Sheetheni, who has established parish support groups for people living with HIV while working in congregations between 2005 and 2010, said attending the IAC would empower her future ministries in the church and community.
"During this conference I hope to get exposed to issues of HIV and AIDS, make contacts with people affected by the virus and remain connected for the future ministries we will be engaged in," Sheetheni said.
Mumbula, 19, was recommended as a participant by her church. "When I return from the IAC, I will share with my fellow youth and church members everything I have learned," she noted.
After attending the Pre-Conference and IAC, the delegation will visit Reformation Lutheran Church, an Evangelical Lutheran Church in America congregation that will be present in the IAC Global Village Faith Zone as part of the group "Lutheran Grace."
The Ecumenical Advocacy Alliance, an LWF partner, is the lead international sponsor of the Interfaith Pre-conference. (442 words)

Venah Mzezewa (center), Lutheran Communion in Southern Africa, discusses mainstreaming HIV into the theology curriculum at Paulinium United Lutheran Theological Seminary in Windhoek, Namibia, at a May 2012 consultation. © Ari Koivulahti
Back